Factory outlet
Welcome to our factory outlet in the centre of Kouvola! The factory outlet is located in connection with our liquorice factory, and it is there that you can find the world's best liquorice in various forms: pieces, tea, laces, coffee and sauce – as well as special batches, wild flavour combinations and merchandise. The freshest liquorice you can get!
Opening hours
Mon 10–14
Tue–Fri 10–17
Sat 10–14
Sun closed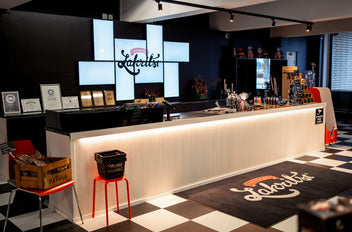 Location and contact details
Why establish a factory on the outskirts of town when you can build one right in the city centre? That's what we thought!
Street Address
Salpausselänkatu 57, 45100 Kouvola
Tel.
+358 50 300 2761
Email
tehtaanmyymala@kouvolanlakritsi.fi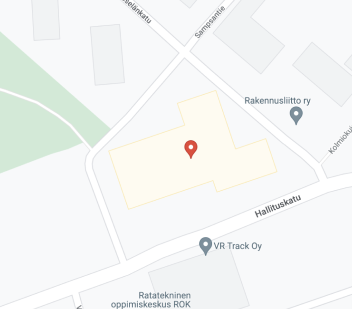 Guaranteed fresh
Kouvolan Lakritsi's liquorice is always soft and fresh. In our factory outlet, it's nearly steamy fresh. Our liquorice's flavour and freshness are the result of a traditional production method, the right people, a polished recipe and armfuls of love. This is what liquorice is supposed to be like.
Ruokala 57
Ruokala 57 is a lunch restaurant whose name refers to the factory's street address and the school canteen that the building used to house. You can find it on the street level next to the factory outlet. Visit Ruokala 57 for a delicious lunch as well as sweet and savoury snacks – naturally with a liquorice twist. The restaurant seats up to 104 people, and it can also be booked for events and meetings.

Contact Information
05 3711 942

juha.rouhiainen@kymifest.fi
040 739 4545

Opening Hours
Mon 10–14
Tue-Fri 10–14.30
Open in the evenings by appointment.

Lunch
Mon-Fri from 10.30 am to 2 pm
Order liquorice from our online store

If you can't visit the factory outlet, you can order liquorice and other goodies for home directly from the online store.